€299.00

Discount: -

€74.75

€224.25

/ szt.
FOR THIS PRODUCT:
Patine
Product information
Type: Monk
Last: Y 915F
Sole: Leather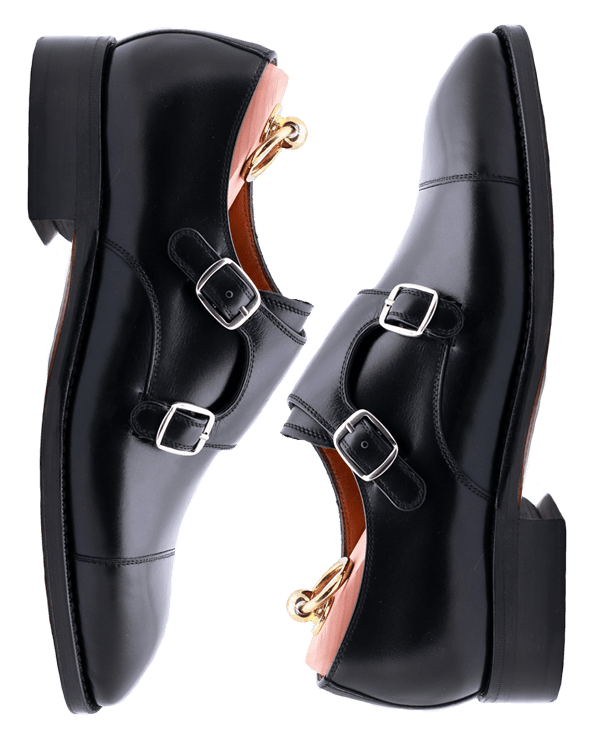 Last: 915 (size chart)

Fit:

F

Shoe type: Double Monk Straps

Leather: finest quality calf leather

Type/colour of leather: Boxcalf Negro

Sole:

leather

Double Monk Straps

These monks have marvelous curves, which will look fantastic with smart casual outfit. Monk shoes are classified somewhere in between formal shoes and casual loafers, which makes them an universal choice for those who are still figuring out their style. It is simply a must-have for every shoe lover. The shoes are excellent to wear both in office and during leisure time. They will look equally great with a suit, cotton chinos or jeans as well. A pair of buckles enables them to adjust perfectly over the instep, which makes them one of the most comfortable pairs in every gentleman's collection. Superb fitting and functional buckles (which solve the problem of unlaced shoes) are yet another irresistible arguments in favour of monk shoes. Finally, they look splendid with skinny trousers (those with narrow ankles as well) – such composition displays the shoes in all their glory, exposing their supreme details.
YANKO
YANKO is a brand of shoes produced on the island of Mallorca where it was created in 1961 by master artisans specializing in the manufacture of high quality footwear. From its humble beginnings it soon developed into one of the most important and prestigious footwear companies in Europe during the 80s. So much so, that in its heyday, YANKO was manufacturing more than a million pairs of shoes a year. YANKO has spent more than half a century manufacturing shoes using the traditional Goodyear Welt technique. All phases of production undergo strict and thorough quality checks, verifying that products meet all requirements at each state of the manufacturing process. At the same time adhering to the needs and expectations of customers as far as quality and pricing are concerned.

YANKO Leathers

Yanko shoes are made of the finest quality calf leathers, coming from tanneries in France, Italy, Germany ...

Goodyear Welted
Stitching technique and shoe construction, associated with the most luxurious brands in our profession. Goodyear welted shoes are practically immortal, often handed down from generation to generation. Made of finest quality leathers, properly conditioned upper parts of the shoe will frequently outlive their owner. Thanks to Goodyear welting, worn out soles may be replaced with new ones. You should therefore be aware that you are looking at shoes which will serve you for many years to come.

Shoe Care

As time passes, properly cared high-end shoes look better and better- leather becomes covered with patina, while the shoes themselves adjust to the shape of their owner's feet. These are some of the features which make premium shoes easily distinguished from ordinary ones. To enjoy this quality for years, please remember to care about your shoes systematically.
Items recommended for shoe care
Patine
Accessories and etceteras
We offer footwear only from the best leather on the market supplied by the most recognized tanneries in the world. Our leather comes mainly from Italy and France, and is produced using traditional methods based on many years of experience. Our raw materials are subjected to several rigorous inspections to guarantee the highest possible quality. As a result, we are able to provide our customers with shoes that with proper care can be passed on from generation to generation.
SOLES
A wide range of footwear soles will satisfy the needs of even the most demanding customers. From the most elegant leather butts for lovers of classic solutions, through rubber combined with the leather, which gives optimal comfort of use, to very resistant rubber soles, which are perfect even in extreme autumn-winter urban conditions. The vast majority of the offer are shoes sewn using the Goodyear Welted method, which has been preferred for the production of the highest quality classic footwear for years. A solution that has many advantages, and the biggest one is the trouble-free possibility of replacing the worn out soles with new ones after use.
See more
The art of fitting - choose the perfect size
Most of our clients do not have a big problem with choosing the optimal size for themselves. It happens, however, that at the beginning of the adventure with classic footwear it is a bit problematic. That is why we have a GOLD STANDARD and full assistance from experienced support, which minimizes the risk and stress associated with choosing the size of the footwear. With each order it becomes much easier.
Check your size
FREE UPS SHIPPING Worldwide on all
orders above 250€ / 295$
30 DAYS FOR A REFUND More time to return
unused goods